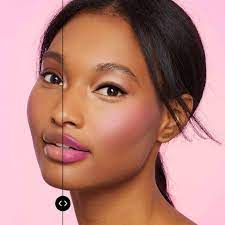 AI makeup is making its way into the beauty industry, with a number of brands and technology companies bringing a range of solutions to the table. These range from skin care diagnostic selfie experiences to virtual makeup try-ons and shade matching technologies.
Brands like Estee Lauder are leveraging AI and AR to offer personalised virtual try-on makeup experiences. These solutions allow customers to virtually try on makeup products before making a purchase, instantly seeing the results on their faces.
Perfect Corp has partnered with Estee Lauder and No7 to provide an AI-driven virtual try-on experience that has been shown to increase both conversion rates and customer loyalty. This solution is powered by a non-fungible token system and is available to consumers on a mobile app or via 360deg AR try-ons at the brand's stores.
Using a voice instruction system, ELC's VMA identifies makeup applied on the face and assesses uniformity and boundaries of coverage. This helps consumers to apply their makeup with more accuracy and precision.
L'Oreal is also leveraging AI to give consumers more insight into upcoming trends and predict which types of cosmetics are likely to be popular. This information is used by L'Oreal's open innovation digital marketing team to incorporate current terms in product pages, ads and social media posts, so that it can get the first grip on emerging trends before its competitors.
There are many other ways that beauty brands are leveraging AI to improve the shopping journey for their customers. One example is The Beauty Matches, a quiz that asks questions about the consumer's lifestyle, skin type and preferences to suggest makeup and skincare products. This solution aims to help users find the perfect products for their unique needs and is available on various platforms, including a standalone website and a mobile app.
Revieve is another company that uses AI to provide beauty recommendations based on the consumer's selfies and other facial characteristics. This system analyzes 68 different factors and provides advice for different areas of the face, such as redness, eye bags and wrinkles.
In addition to helping consumers get advice about their skin, Revieve's digital beauty platform offers them targeted products and services as well as in-person and online video consultations with health and beauty experts. NordicFeel, a major Swedish retailer, has implemented Revieve's Digital Beauty Advisor across its e-commerce sites to offer a more personalized shopping experience for its customers.
Other companies that use AI to improve the shopping experience include GLAMLab, which offers a lifelike makeup fitting experience on its websites and mobile apps. This solution includes a virtual try-on and a selection of tutorials to guide users through the process.
Using AI to assist with makeovers is becoming increasingly common, and some major retailers are taking the lead in implementing this new technology. Coty teamed up with Amazon Echo Show to launch 'Let's Get Ready' in 2018, which combined NLP capabilities with offering personalized looks to users.
In addition to the aforementioned technology, many cosmetics brands are using AI to create bespoke foundation shades and lip colors that closely match their customers' skin tone. This is particularly important for women who are blind or partially sighted, as it can be difficult to test makeup colors in person. ai makeup